Hey guys and welcome back to Marat hair. Today's blog I'm going to be showing you how to get these double dutch braids. I think this hairstyle is perfect for summer because it gets all of your hair off of your body so you're not too hot. I just think it's so trendy and cool and I'm so excited to show you guys how I did it.
This style is perfect for using your Marat hair extensions because my hair would be a little bit thicker on top and then it goes a lot thinner on the bottom so whenever I do these kinds of braids it goes really thin and it just doesn't look as good. I'm going to teach you how you put your extensions in to do these braids so you don't see them at all and you can have that thick looking braid. So if you guys are interested in seeing how I achieve this look then just keep on watching!
For this tutorial I'm going to be using:
one clip weft 
two clip weft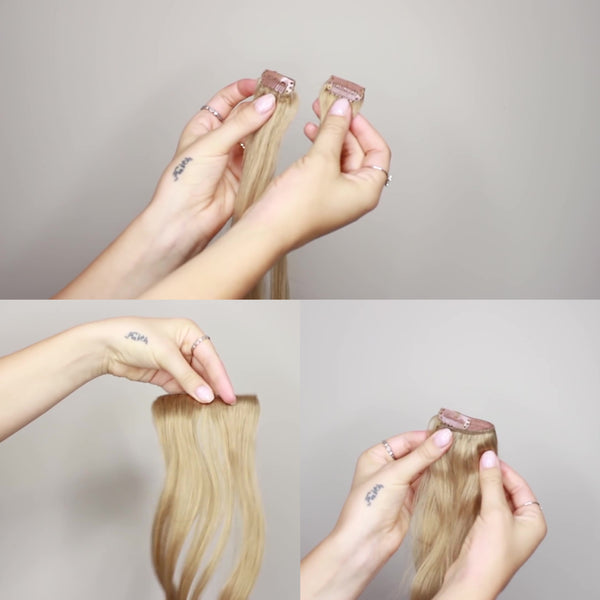 But if you feel like you want some more volume you can take the two weft and just fold it over and clip it underneath and it just becomes a thicker piece. And if you have really thick hair you can take the four clip weft and flip it over until there's only one clip showing.
 STEP 1:
Starting off with all of my hair down. I'm going to separate it into two pieces and sectioning one half away so that it doesn't get caught in our braid.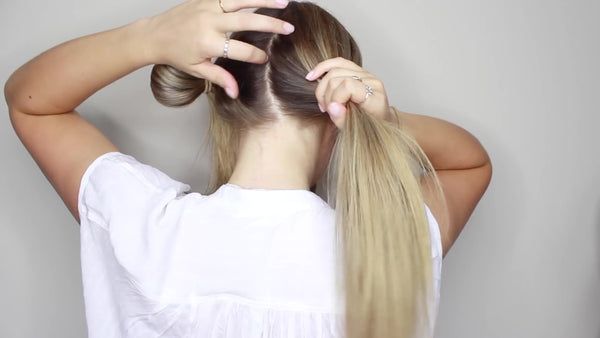 STEP 2:
Sectioning off the bottom part of my hair I'm putting the two clip weft at the bottom so that most of the thickness is at the bottom when we pull out the braid. Sectioning off another piece and putting the one clip weft. I'm going to be putting 3 of the 1 clip wefts in sections all the way to the top of my head. Putting our extensions in this way just really camouflages the clips so that they don't show when we pull it the braid.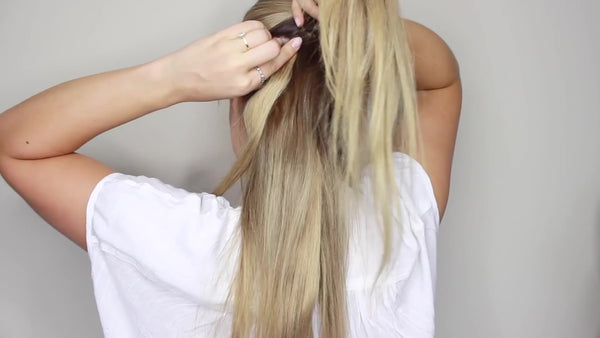 STEP 3:
Now on to the Dutch braid we're going to section our hair into three pieces and like a normal French braid you would normally bring the outside pieces over the middle piece but for a Dutch braid you're going to bring the outside pieces under the middle piece. So I'm just going down my head and collecting pieces to add to the braid, and then putting it under the middle piece. It may look difficult at first but I promise with practice it gets really easy.
Once you get to the nape of the neck then it's the easy part you just continue with your braid all the way down and then secure it with an elastic. And there you have your first Dutch braid so we're going to do the exact same thing on the other side. Again starting at the bottom half of my head I'm clipping in my two-piece weft so that we have the most amount of hair at the bottom for when we pull out the braid. Then going in sections of three and clipping in a one clip-in weft.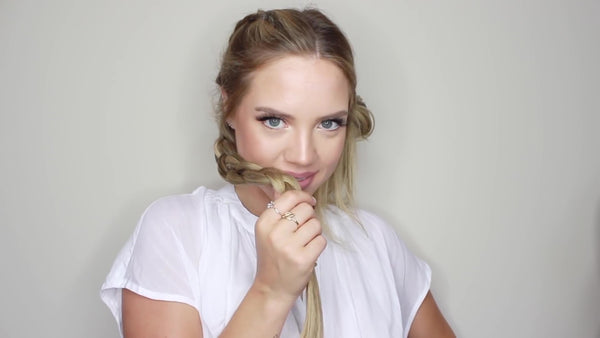 STEP 4: 
I prefer to do my Dutch braids a little bit tighter so that it doesn't fall out when I pull it out at the end if you do your braids loose then it might fall out. You could leave your hair like this it looks a lot more sleek but I'm gonna go to town and just pull it out so that it looks a lot more fun and edgy. You can see how full and thick the braid looks and your extensions aren't even showing people are just gonna think you have amazing thick hair. You can see how thick and full your braid looks on the sides you pulled it out compared to the side that you didn't. Both braids are absolutely beautiful so it's just up to you on which one you prefer.
I think this style of braid is beautiful on anyone who has lots of tones and colors in their hair because the braids will really show it off. To add a little bit more to the messy look I decided to pull up my baby hairs just to frame my face. And that's it! It's super easy and I think it's such a cute hairstyle for summer.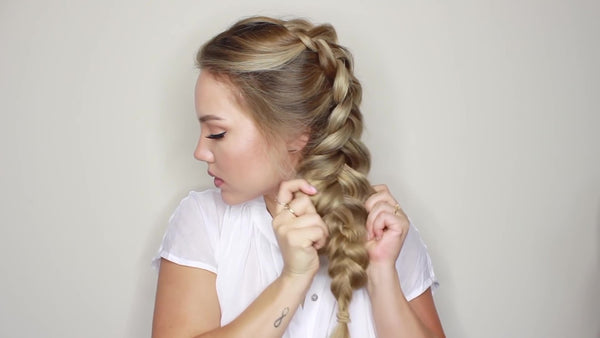 I hope you guys enjoyed this hair tutorial!