Hi guys welcome back to the Marat hair blog. Today we're gonna be tackling summer's biggest hair enemy and that is humidity and frizzy hair which is something that we suffer from majorly when it comes to hot summer days. And I know that it's a big problem and challenge that many of you face. So I'm gonna be sharing some of our best tips and tricks for tackling this problem head-on and just making your life way easier when it comes to styling your hair on hot summer days and dealing with all of that frizzy mess! So let's just get into the blog!
So raise your hand if you have naturally curly hair or naturally wavy hair. I have naturally wavy hair and that means these types of hairstyles tend to be more on the drier side and drier hairstyles dryer hair textures love to absorb moisture so when you go outside on a super humid day your hair just like attract like a magnet all of the moisture in the air absorbs it like Bing and suddenly you're left with like this poofy mess of hair. So if dry hair equals frizzy hair then the key to tackling this problem is to hydrate your locks majorly.
TIP 1
WASH YOUR HAIR LESS
So instead of washing your hair every day or using every other day if you can go you know to two even three days between washes use dry shampoo in between and let it soak up the extra oil but shampooing less will keep your hair healthier in the long run.
TIP 2
WASH YOUR HAIR WITH LUKEWARM WATER OR COLOD WATER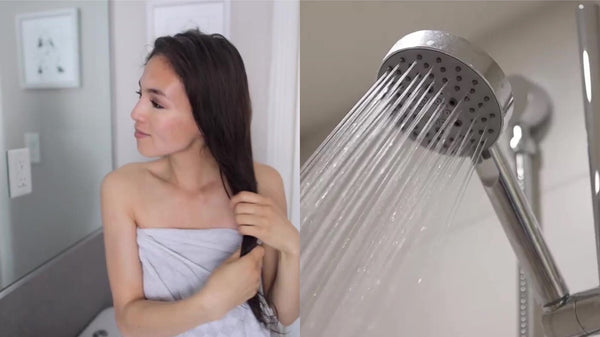 Stop showering with hot scalding water start using more lukewarm water or cold water even and this seals your hair cuticle is making your hair look more shiny.
TIP 3
SELECT A SHAMPOO WITH NO DRYING SULFATES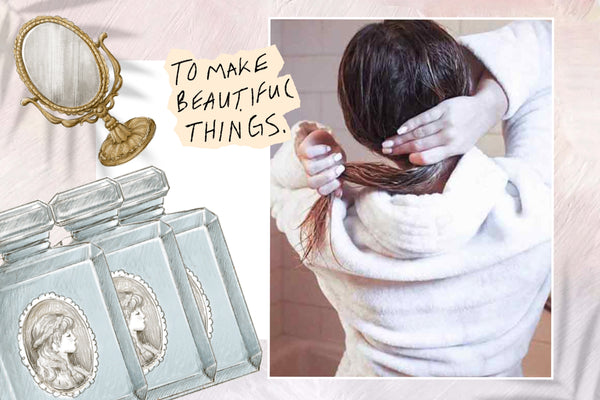 When selecting a shampoo for washing your hair you want to make sure you choose a shampoo that has no sulfates in it reason why is because sulfate is really good at removing dirt from and cleaning your hair but along with it it takes away your natural oil and that tends to make your hair it much more brittle and dry.
TIP 4
GENTLY SQUEEZE OUT WATER WITH A MICROFIBER TOWEL TO DRY HAIR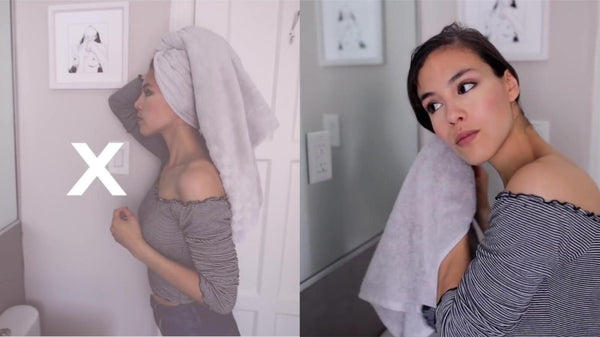 When you step out of the shower and you need to dry your hair next tip is to stop using friction on your hair to dry your hair. Wow I said hair so many times. Don't put your hair up in a towel turban stop doing that. Don't rub scrub dry your hair with your towel that's really harsh and damaging and causes lots of breakage. You want to keep everything smooth and healthy so instead offer just gently squeezing out your hair and if you can if you've got a microfiber towel that's even better just gently squeezing out the water and then letting your hair air dry.
TIP 5
LET YOUR HAIR AIRDRY 90% BEFORE BLOWDRYING
One of the major common mistakes that causes a lot of frizziness is right away just blow-drying your hair when it's still really wet and damp. What you want to do is make sure your shower schedule allows you to have enough time to air dry your hair because you want your hair
to be air dried about 90% before you even touch that blow-dryer.
TIP 6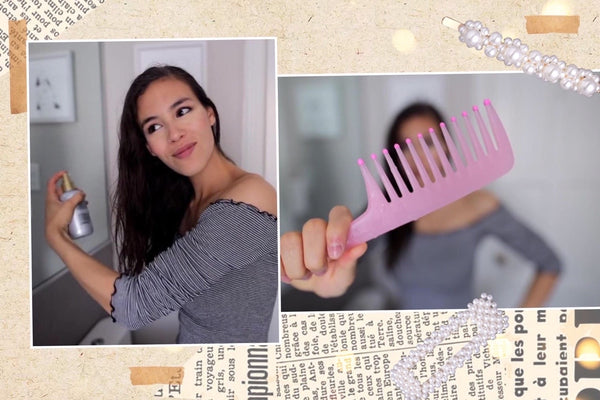 I also don't suggest brushing your hair right away when it's still really wet and really damp. Let your hair air-dry again 90% of the way and then when it's time I like to use a leave-in conditioner spray just spritz it all over. And then I use a wide tooth comb to brush upwards starting from the bottom and then I will just lightly gently brush out the tangles upwards. This is the best way to avoid breakage and damaging your hair.
TIP 7
BLAST YOUR HAIR WITH COLD AIR WITH A BLOWDRYER
And now it's time to blow-dry. A tip when using your hair dryer to prevent frizz is to blast it all with cold air. Blast it with cold air all over and that just seals in your cuticles and makes it shiny locks in the moisture and helps prevent frizz when you go outside.
TIP 8
APPLY A HAYDRATING HAIR MASK ONCE A WEEK TO YOUR STRANDS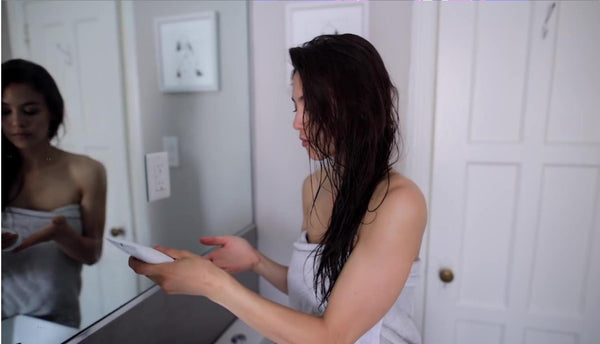 One of the dry hairs the best friend is actually the Sun. UV rays tend to be very harsh and drying on your strands so if I know that I'm gonna be spending a lot of time in the Sun like I'm going on vacation or something then I love using a very hydrating hair mask before. I'll just apply a hair mask when I'm showering and I you know leave it on for about 10 to 15 minutes. I'll spend the rest of the time doing no shaving or whatever or you can apply it when your hair is damp and then just take 15 minutes do some other things and then go back and just rinse it out. Really easy and something that is great to do at least once a week especially if you have very dry or frizzy hair. Again the whole point and the whole key to this is making your hair as moisturized and hydrated as possible to prevent that fridge from happening. 
TIP 9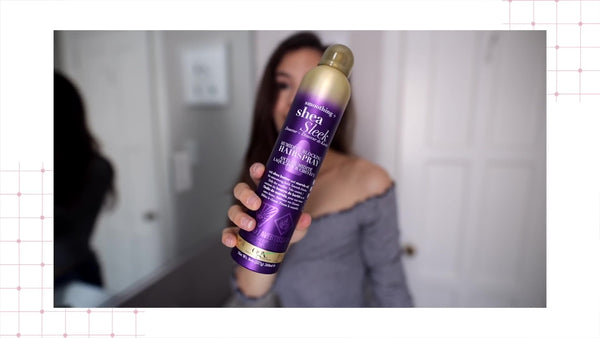 If you're on the go and you already feel your hair starting to frizz up or we've got some unruly flyaways, a great tip is just to put some hair oil on a mascara brush or a toothbrush or a little comb or a humidity defying a hairspray both hair oil and community defying hairspray would work really well. And you just spritz it on your little brush and then just smooth it down and then you're good to go for a little bit of time.
TIP 10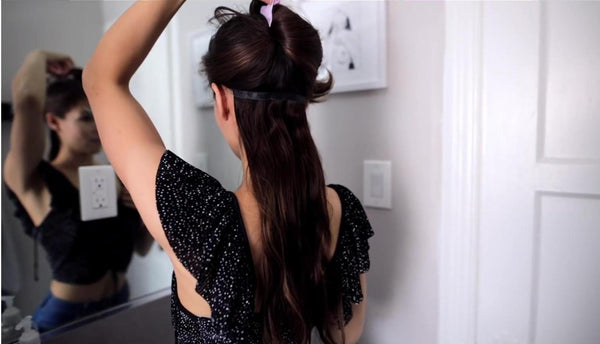 We've talked about heat styling using hot tools and also showering with hot scalding water as both being very drying and damaging to your hair. Another thing that is very drying and damaging is dyeing your hair. And I'm a little bit biased I've never dyed in a hair honestly it's because I I'm Way too scared to commit to a color. But if you love to play up with your hair and change the color you know maybe you want to add highlights or lighten it and you know have a little bit more fun. A great alternative that is not damaging is using the Marat hair extensions in the balayage collection. They just add amazing beautiful highlights to your hair so I have the chocolate brown balayage set and it just adds these amazing like sunkissed chestnut brown highlights to my hair and I can just add color instantly into my hair without actually going to the salon and dyeing it and doing the whole ordeal and making my hair more damaged this is a great solution and alternative to doing that.
TIP 11
WORK WITH YOUR NATURAL HAIR TEXTURE ON HUMID DAYS
One key lesson I've learned over the years is to work with the natural hair texture that you have in the natural hair style that you have. So if you have naturally like pin straight hair I wouldn't go on a humid day and curl it and try to make it all wavy and curly. And same thing if you've got really curly hair and suddenly it's a humid day and go straighten it like you're just gonna end up with a big poofy mess. So basically what you want to do is just take your natural hair texture and just style your hair in an amped-up version of that hair style. style your hair in an opposite direction of your own is just an upward battle when it comes to humid days and humidity it's just a big No!
Ok! That's it for today's blog. I hope you learned a few new tips when it comes to preventing frizziness and tackling humidity on hot summer days.